Sport bikes are some of the most exciting motorcycles available. They allow us to live out our racer dreams in real life.
Many sport bikes are derived from MotoGP and other superbike racing equivalents, so you get racing attitude, style, tech, and performance filtered down into a road-safe production model.
A good beginner sport bike will have fairly neutral ergonomics and enough power — but not too much — and will generally encourage the rider to learn to ride properly rather than just fast.
We've gathered the best of the best into one simple list, so let's take a look.
Kawasaki Ninja 400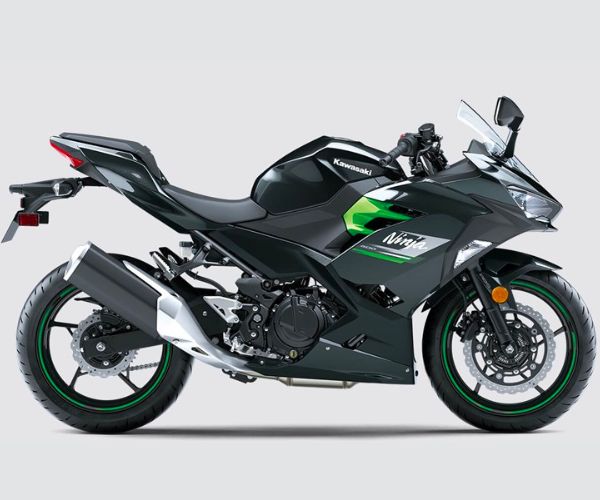 Specs:
Engine: 399cc, twin-cylinder
Seat height: 30.9"
Weight: 366 lbs (ABS)/361.6 lbs (non-ABS)
MSRP: Non-ABS $5,299/ABS $5,699
Few motorcycles in the lightweight class have as much sophistication and power as the Ninja 400. But the Ninja's power is delivered in a smooth and manageable way that won't threaten new riders or scare them when they twist the throttle.
The twin-cylinder engine is a big reason for this. It's smooth all-round, with a transmission that provides easy, efficient gear changes and linear power delivery.
Ergonomically, the Ninja 400 is one of the most comfortable options on the list, with a neutral riding position and raised handlebars for a confident stance that aids rider control.
The Ninja name is synonymous with sport bikes, so you're entering the sports world with a well-respected line of bikes backing you. Ninja history, lessons, tech, and quality have been poured into the 400 to ensure that despite being small, it lacks nothing.
---
KTM RC 390
Specs:
Engine: 373cc, liquid-cooled, single-cylinder
Seat height: 32.4"
Weight: 341 lbs
MSRP: $5,899
KTM's RC 390 is one of the more exciting options available to new sport-bike riders. It's worth noting that despite its small capacity, the RC 390 is built as a small supersport, so it doesn't have the same laid-back attitude as some of the other bikes. You need to be aware that the RC 390 has some edge and is ready for the track.
Where Kawasaki and Yamaha have arguably produced bikes with a sport-bike aesthetic to encourage new riders into the world of sports riding, KTM has produced a bike with the same technical design as its bigger racers.
The 390's chassis has been built to be as lightweight as possible, but it's super rigid and well balanced for excellent handling performance. Ergonomically, the RC 390 has a standard racing position, keeping you hunched over the tank and reaching for the clip on handlebars while your feet trail behind.
The 390 also makes use of modern digital technology. A TFT display shows all the important information you need, and you can customize it to your preferences accordingly.
Overall, the RC 390 is a phenomenal machine. New riders just need to be aware that the bike is extreme despite the small capacity and may take more time to get used to, particularly the racing ergonomics.
---
Yamaha YZF-R3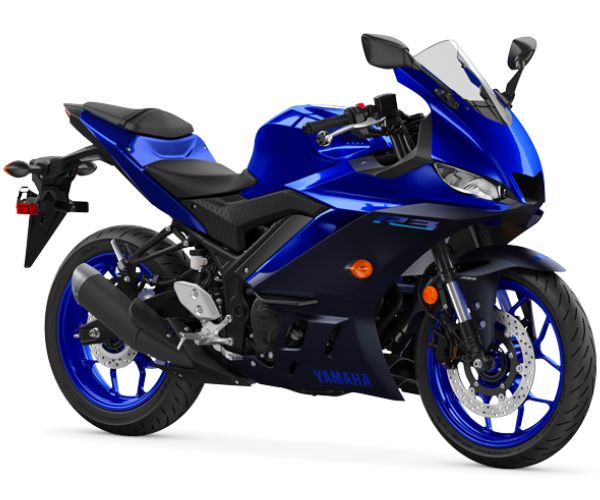 Specs:
Engine: 321cc, inline-twin, liquid-cooled
Seat height: 30.7"
Weight: 375 lbs
MSRP: $5,499
Another big name in the racing world comes from Yamaha's R series. The legendary YZF-R1 has been at the forefront of motorcycle racing since its release. Yamaha has recreated the energy of the big R1 in various capacities over the years, and the R3 is currently its smallest-capacity offering.
Don't be fooled, though. The R3 looks the business — in a lineup with no definitive markings on R1s, R6s, and R7s, with an R3 you would struggle to tell which bike was which.
The lightweight agile chassis equates to nimble handling, and the riding position is similar to the Kawasaki Ninja. It's upright and relaxed, not aggressive like the KTM RC 390.
The YZF-R3 comes with ABS as standard, a great addition for new riders, assisting with confident, safe braking regardless of the riding conditions. Quality components are used throughout, including a central air intake that is inspired by the race-winning Yamaha M1 MotoGP bike.
---
Kawasaki Ninja ZX-4RR
Specs:
Engine: 399cc, inline four-cylinder
Seat height: 31.5"
Weight: 414.5 lbs
MSRP: $9,699
If the Ninja 400 isn't quite as sporty as you would like and you want something more race focused, then the alternative option is the ZX-4RR. This model carries the spirit of Kawasaki's race bikes and the ZX-1000RR DNA is very evident from top to bottom.
The ZX-4RR is designed as a supersport, so it has similar aggressive styling and ergonomics despite its smaller capacity, much like the KTM. It costs about $4,000 more than the Ninja 400, but you do get more track-worthy features and performance for the money.
ABS comes as standard, as does Kawasaki Traction Control and a dual-direction Kawasaki Quick Shifter. It also has upgraded suspension fitted. Power is also up significantly, from 45 horsepower for the Ninja 400 up to 75 horsepower for the ZX-4RR. This is largely thanks to an inline, four-cylinder engine as opposed to the parallel-twin in the Ninja 400.
As a complete new rider, I would recommend opting for the Ninja 400, but if you have some experience riding motorcycles and want to make the shift to sport bikes, then the ZX-4RR would be a good choice.
---
Suzuki GSX250R ABS
Specs:
Engine: 248cc, four-stroke, liquid-cooled, SOHC, parallel-twin
Seat height: 31.1"
Weight: 399 lbs
MSRP: $4,999
The smallest addition to our list is the GSX250R from Suzuki, a lightweight, nimble, sport bike that shouldn't be ruled out as a great option for new riders.
Suzuki has ensured that the GSX250R still looks very much like a sport bike. It stands out and packs a punch in the style department, so you won't feel a bit left out at a bike meet being on a smaller bike.
No expense has been spared fitting this bike with available features. The model comes with ABS as standard, and it is equipped with KYB suspension, cast aluminum wheels, and sporty, petal-type brake rotors.
The ergonomics are comfortable, and they give the rider plenty of room and a confident riding stance, which is more upright than bent over. The tank has also been sculpted to help riders firmly plant both feet on the ground.
The 250cc capacity might put some riders off immediately, but it shouldn't. Those of us who have ridden small-capacity bikes will happily and honestly tell you that small bikes are amazing fun, even more fun sometimes than the 1000cc beasts.
For new riders, the Suzuki provides enough power to learn the ropes, and as you get more confident, you will find chasing the red line on a 250 is incredibly exciting.
---
Honda CBR300R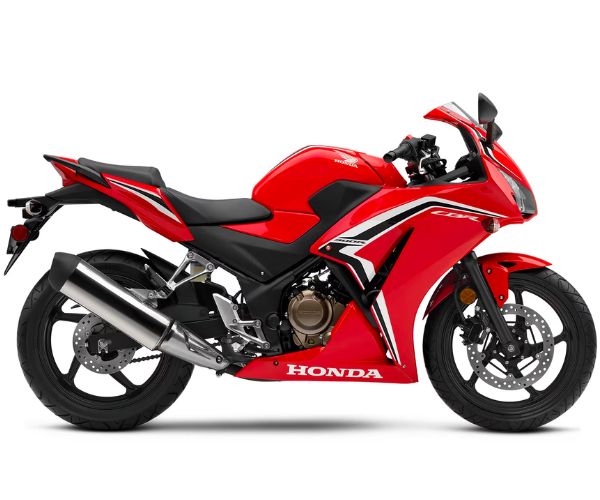 Specs:
Engine: 286cc, single-cylinder, liquid-cooled
Seat height: 30.7"
Weight: 354 lbs
MSRP: $4,899
Honda motorcycles sometimes get a bad rap for being a bit boring. In reality, though, they're just incredibly reliable, very solid, with slightly conservative styling. It's a stereotype that Honda isn't ashamed of or particularly trying to shake off — its bikes are good, end of.
Now, in the case of a beginner sport bike, the CBR300R exemplifies everything that a good Honda should be, and for new riders, being slightly more conservative isn't a bad thing at all. You want a reliable, capable motorcycle that does the job so you have nothing to worry about.
The CBR300R takes all the best bits from Honda's CBR supersports and mixes them in with practical features that suit beginner sport bike riders for an excellent lightweight package. The chassis is rigid, the handling is precise and agile, and the bike is easy to ride, maneuver, and control — all excellent new rider qualities.
Furthermore, the 300cc engine delivers power in a smooth, nonthreatening manner, allowing you to get up to speed at your own pace. Then you can twist the throttle and unleash some more top-end when you're ready.
---
Honda CBR500R
Specs:
Engine: 471cc, parallel-twin
Seat height: 31.1"
Weight: 423 lbs
MSRP: $7,299
If you want a bigger motorcycle edging into the middleweight class, then the CBR500R might be a good choice.
The CBR500R offers riders the opportunity to cruise along at highway speeds that much easier and to ride with luggage or a passenger with ease without putting a strain on the engine like you might find on a 250/300cc bike.
The power delivery is still very smooth and not intended to be scary. It will release power as you need it and when you call on it — just remember, there's more at your disposal.
Ergonomically, the CBR500R is still upright and comfortable. It remains a practical, all-day riding bike, and you won't be hunched over like some of the other CBR RR models.
One note is that the bike is heavier than the CB300R and others on our list since a bigger engine means more weight. Still, it's well-balanced and not overly heavy, so it should be manageable for most riders.
The CBR500R is a sport bike that you can grow into and potentially keep for a long time, a sophisticated middleweight motorcycle that encourages calm riding as opposed to full-on racing, which is exactly what a beginner rider needs.
---
Read our guides