Since the very first motorcycle was produced, the first question on riders' minds has been:
How fast can it go?
We use two factors to determine how fast a bike is:
The absolute top speed that we can squeeze out of the engine
How fast can it accelerate
Most motorcycles have top speeds that far exceed any legal road limit, and that kind of power can only be tapped into on closed circuits. Furthermore, many top road bikes are electronically limited to 186 mph.
See our guide to the fastest production motorcycles in the world.
So we are focusing this post on the bikes with the fastest acceleration; this is the factor that matters most to riders as it is a usable tangible determination of a motorcycle's power.
Let's face it we have all twisted that throttle to see what our bikes' 0-60 mph time is, whether it is a single-cylinder 125cc or a 1000cc superbike.
Let's get started.
Suzuki GSX-R1000
0-60 mph – 2.35 seconds
Top Speed – 180 mph
Curb Weight – 201 kg
MSRP – $16,149
The Suzuki GSX-R1000 has around 200 horsepower, so it is no surprise that this 201kg monster is the fastest accelerating motorcycle with a 0-60 mph of 2.35 seconds.
First introduced as the GSX-R750 in 1985, Suzuki changed what was expected of sportsbikes and set the bar extremely high for the competition. They repeated this in 2001 with the introduction of the first GSX-R1000.
Nearly 22 years later, the Gixxer is as strong as it once was, with nothing but improvements having been made over the years.
It is now loaded with the latest tech, including an IMU, Traction Control, Driving Modes, and a MotoGP dash, among other features. It is lighter, sleeker, more aerodynamic, and more adjustable than ever, so you can tailor the ride to your personal preferences.
The GSX-R1000 has aged like a fine wine, which is why it is still at the top of its game, boasting impressive stats.
---
Suzuki Hayabusa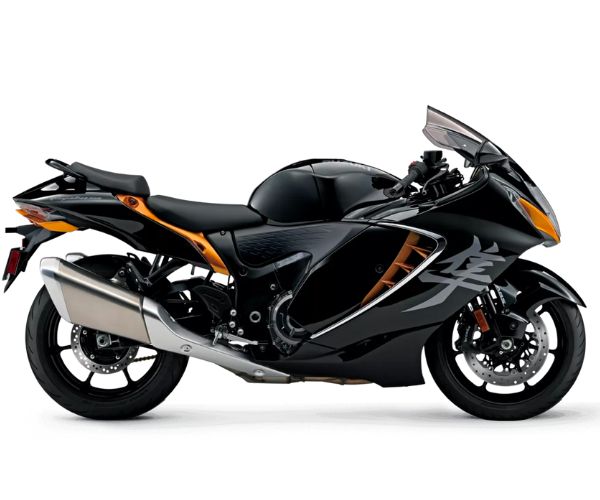 0-60 mph – 2.47 seconds
Top Speed – 186 mph
Curb Weight – 264 kg
MSRP – $18,799
The Hayabusa needs no introduction. It is arguably the ultimate sportsbike and has held the title since its first model was released in 1999.
With a 0-60 mph of 2.47 seconds and a top speed limited electronically to 186 mph, the Busa is one fast machine that will fly ahead of almost anything from a stop light.
The latest 2023 Hayabusa houses a 1,340cc inline-four inside a dynamic, stable, rigid chassis tested endlessly in Suzuki's wind tunnels.
It is also loaded with electronic rider aids to tailor your ride to your needs and circumstances. Features include the Suzuki Intelligent Ride System, adjustable power delivery and traction, and cruise and launch control.
The latest generation has over 500 new or redesigned components. Suzuki, therefore, has made it clear that they will continue to develop the Hayabusa as it remains as popular as ever.
---
Ducati Diavel 1260S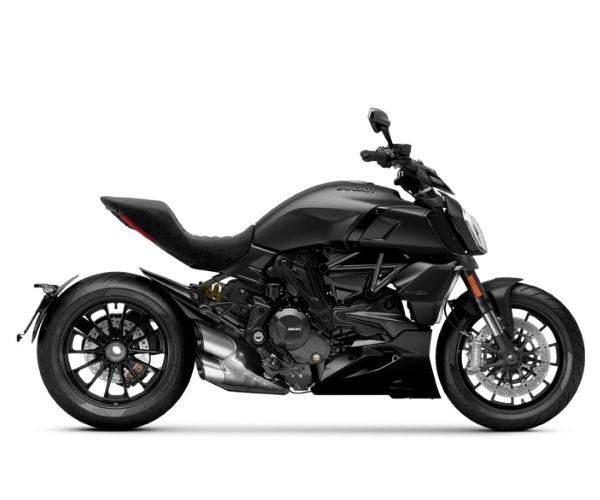 0-60 mph – 2.5 seconds
Top Speed – 167 mph
Curb Weight – 223 kg
MSRP – $24,895
The Ducati Diavel is the ultimate modern muscle bike, and the 1260 takes all the best features of a big naked bike and pairs that with a muscle cruiser in terms of ergonomics.
The S version goes further and focuses on the sports features to solidify the Diavel as the best in its class.
The best addition for the S version is the Ohlins suspension that looks the business and performs exceptionally well, too, with lots of adjustability.
Ducati Wheelie Control, Traction Control, Riding Modes, and Power Modes are all high-end features that allow the rider to decide whether to sit back into a relaxed ride or turn things right up for a truly exhilarating ride.
Despite its monstrous size, the Italian beast is impressive, with a 0-60 mph time of 2.5 seconds. It is most certainly one of the fastest-accelerating bikes currently available.
Also read our guide to the fastest Ducati motorbikes.
---
Yamaha YZF-R1M
0-60 mph – 2.6 seconds
Top Speed – 186 mph
Curb Weight – 204 kg
MSRP – $26,999
The Yamaha YZF-R1 is one of my favorite motorcycles of all time. At this point, it is an institution; since its release in 1997 at the EICMA bike show, the R1 has taken the world by storm. 
Further reading – Yamaha YZF-R1 vs YZF-R6
The whole R series has had a styling overhaul for 2023. The bikes are now leaner, more aerodynamic, and more aggressive than ever. The inner mechanics are also now more on display than ever before, so you can appreciate the work that has gone into the heart that is the engine.
Our focus here is on the R1M, the all-new pinnacle of the R1 range. It is the MotoGP race-spec bike with all the tech features and performance that the racing legends have access to on the track.
If the top-of-line MotoGP motorcycle isn't quite within your range, the standard R1 has a respectable 0-60 mph of 3.1 seconds, so it is still pretty quick.
---
Ducati Diavel V4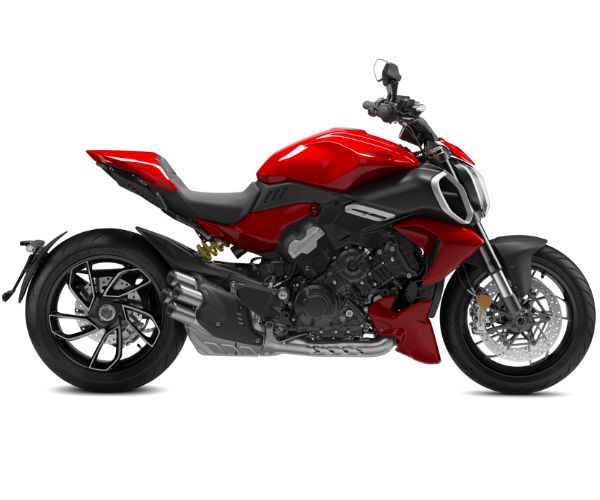 0-60 mph – 2.7 seconds
Top Speed – 168 mph
Curb Weight – 211 kg
MSRP – $26,695
Ducati marketed the Diavel V4 as a muscle cruiser with a supersport personality. At the heart of the bike is the new V4 Granturismo; all the mechanics are on display which gives the effect of the bike flexing its raw muscles.
With a reputation for making magnificent machines, the new Diavel follows suit, and you can see that the design team took priority in this build.
For example, the huge air intakes either side of the headlight give a prominent muscular head-on view and look like an extension of the engine from the side.
It's not all style, though; performance matches up too. Despite the Diavel 1260 S having a slight edge in acceleration, the standard Diavel V4 is no slouch and easily knocks out plenty of the competition with a 0-60 mph time of 2.7 seconds.
---
KTM 1290 Super Duke R EVO
0-60 mph – 2.75 seconds
Top Speed – 186 mph
Curb Weight – 198 kg
MSRP – $21,644
A BEAST evolved is how KTM refer to the latest Super Duke R EVO, and you can't argue with them.
The latest edition is a brutal force that combines power, performance, and design into a well-rounded package that keeps it at the top of the class.
The hyper-naked 1,301cc has a 0-60 mph time of 2.75 seconds; it weighs in at 198 kg and boasts 180 horsepower and 140 Nm of torque. The new engine is lighter but retains its power output making for one fast, hard-accelerating motorcycle.
In reality, the Super Duke R EVO should be fully faired and out on the track instead of being the road weapon it is, but we aren't complaining!
For fans of KTM, though, keep an eye out on specs for the limited edition RC 8C that has already sold out on pre-orders, as this track-only machine looks set to be a seriously competitive supersport.
---
Kawasaki ZX-14R
0-60 mph – 2.85 seconds
Top Speed – 186 mph
Curb Weight – 269 kg
MSRP – $16,149
Kawasaki has two really fast motorcycles that have made our list the ZX-14R and the track-ready Ninja H2R. At first glance, you might think the supercharged H2R would be the clear winner; however, it is, in fact, the sports tourer ZX-14R that has a faster 0-60 mph time of 2.85 seconds.
Admittedly the H2R has an insane top speed of an estimated 248 mph. Still, the ZX-14R is electronically limited, so we can't give accurate top speed information if the bike is de-restricted.
If you plan on heading across the country and want to do it both comfortably and quickly, then there is only one option: the ZX-14R.
It is a bike that features heavily on drag strips around the world, dominating races, and has a reputation as the 'Quarter Mile King.' The 1,441cc enormous engine is a thing of engineering genius, and the electronic and comfort features make this bike the best in its class.
Read our guide to the fastest Kawasaki's.
---
Ducati Superleggera V4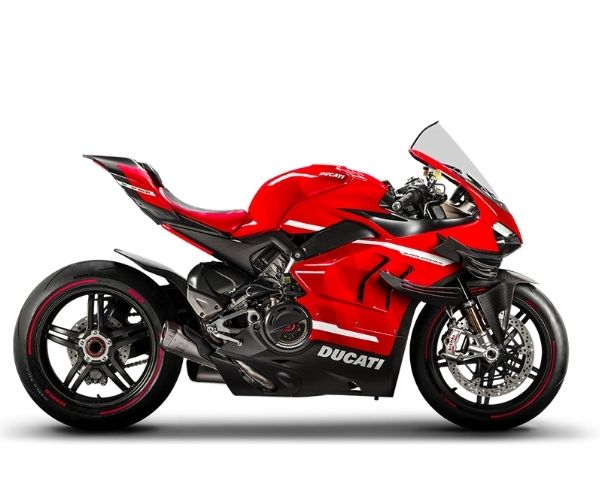 0-60 mph – 2.9 seconds
Top Speed – 186mph
Dry Weight – 159kg
MSRP – $100,000
Next up, we have the highly exclusive Ducati Superleggera V4. A sportier version of the latest Panigale V4.
The Superleggera has been limited to 500 models and features the best components for its construction. Ducati has spared no expense to make the Superleggera a work of art.
It weighs a mere 159 kg, making it the lightest bike on our list. This is mainly due to its carbon fiber components, which are heavily used all over the bike. Carbon parts include the main frame, swingarm, and rims.
This gives the bike a power-weight ratio of 1.54 horsepower to every kg.
If the $100,000 for the most exclusive Ducati ever built isn't within your price range, then you could look at the Panigale V4, which also comes in at just under 3 seconds for its 0-60 mph time but has a slightly more reasonable price tag of $23,895.
---
Kawasaki Ninja H2R
0-60 mph – 2.93 seconds
Top Speed – 248 mph
Curb Weight – 216kg
MSRP – $57,500
The Ninja H2 made an explosive impact on its release, with its supercharged engine blowing people's minds. It seemed like the ultimate speed machine that was equally exciting and terrifying at the same time.
The racetrack-only H2R is an absolute rocket, with an estimated top speed of 248 mph, and its 0-60 mph time comes in under 3 seconds.
To tame this monster, Kawasaki has loaded it with every tech-based design feature you could imagine. It uses every division within Kawasaki Heavy Industries to ensure the model is the best of the best.
Carbon fiber parts, launch control, traction control, brake control, Ohlins shock, Brembo brakes, and durable self-healing paint.
The road-legal standard H2 has a 0-60 mph time of 3 seconds which isn't exactly slow, so if you want a crazy supercharged carbon fiber motorcycle, you could look at that which is slightly more accessible than the H2R.
---
BMW M1000RR
0-60 mph – 3 seconds
Top Speed – 189 mph
Curb Weight – 193 kg
MSRP – $32,995
Last on our list is the all-new BMW M1000RR which is the slowest but still incredibly fast motorcycle on our list.
BMW have been making M Sport versions of their cars for a long time; only recently have they decided that a whole division could be dedicated to making M series versions of their top-of-the-line sportsbikes.
In this case, BMW has taken the S1000RR and given it the M series makeover, so it is now homologated for racing purposes.
It has spent time in BMW's wind tunnels and received a host of carbon fiber components and premium parts that make it most suitable for getting riders on the winners' podium.
If you are a serious track warrior, this bike is for you. However, if you want a bike to ride on the road, too, then shoot for the S1000RR as it's 0-60 time, and top speed isn't all that different, so you won't be disappointed.
Read our guide to the fastest BMWs.
---