No, I don't play basketball, but I do ride motorcycles. At 6'3″, that can actually be a bit of a challenge.
Although I can flat-foot just about any bike out there, the downside is that most are simply too small for comfort, and they cramp my legs. For this reason, I stay up to date on the best motorcycles for tall riders.
A Note on Seat Height
A common misconception is that tall riders need to look for motorcycles with higher seats. Although this can sometimes help, it's not the most important factor. The bigger consideration is leg room, or the space to stretch out the legs between the seat and the foot pegs and controls.
Motorcycles with low seat heights can often still be good for tall riders because the seat is far back from the foot pegs, allowing you to stretch out your legs. Similarly, a motorcycle with a tall seat may still require you to bend your hips and knees at tight angles to rest your feet on the pegs.
Because manufacturers rarely publish the distance from seat to pegs in specs, your best bet is to go to the dealership and test-ride models you're interested in. That said, the tool at Cycle-Ergo.com can help you get an idea of how you'll fit on a bike based on your height and inseam.
BMW R 1250 GS
Specs:
Engine: 1254cc twin boxer
Max power: 136 hp
Max torque: 105 lb-ft @ 7,550 rpm
Seat height: 35 inches
Curb weight: 591 pounds
MSRP: $20,745
The BMW R 1250 line is often cited as the best bike for tall riders, and I would have to agree. This includes the R 1250 R, RS, and RT, as well, but I particularly recommend the GS because of its neutral, upright seating position.
Note the 35-inch seat height, one of the highest on the market. This doesn't always translate to leg room for tall guys, but in this case, it does. Plus, the seat, handlebars, and pegs are all adjustable, so you can maximize this room.
The R 1250 GS is a versatile and comfortable adventure bike that you can also use for commuting and cruising if you need extra space. It's powerful but well balanced for a smooth ride.
---
Harley-Davidson Dyna Wide Glide
Specs:
Engine: 1690cc V-twin
Max power: 80 hp
Max torque: 96 lb-ft @ 3,500 rpm
Seat height: 27 inches
Curb weight: 678 pounds
MSRP: $15,999 (2017)
When Harley came out with the Dyna Wide Glide in 1993, it was a boon for tall riders. When I started riding as a tall guy, I ran into an immediate problem. Most good beginner bikes were tiny things I didn't fit on, but the big Harleys were too much for a newbie like me to handle.
The Dyna Wide Glide offered an accessible option for someone who wanted — and arguably needed — a large motorcycle but didn't have much experience.
The main reason that the Dyna Wide Glide caught on with tall riders is that its foot controls are placed far forward relative to the seat, which allows you to stretch out your legs. It was simultaneously good for beginners thanks to its V-twin engine producing max torque at low rpm, low center of gravity, and overall light weight for its large size.
As a bonus, it had the classic Harley cruiser look that drew many people to motorcycles in the first place.
Unfortunately, Harley discontinued the Dyna series for the 2018 model year, but there are a ton of pre-owned ones still floating around out there. The Softail Standard inherited much of its design and is also a good choice for tall guys.
Check it out on Harley-Davidson
---
Ducati Diavel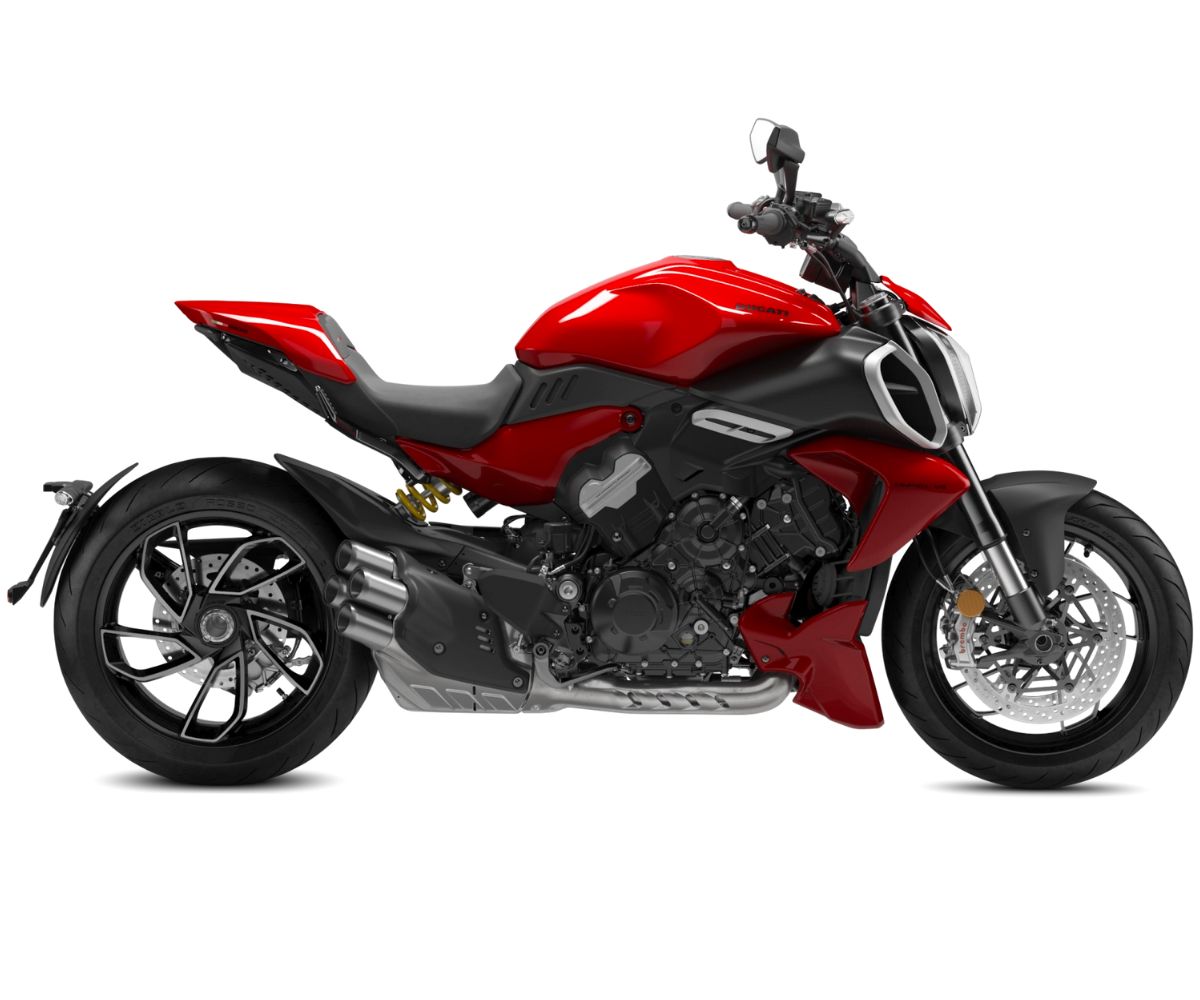 Specs:
Engine: 1158cc V4
Max power: 168 hp
Max torque: 93 lb-ft @ 7,500 rpm
Seat height: 31.1 inches
Curb weight: 527 pounds
MSRP: $26,995
The Diavel is not a full sport bike, and Ducati actually bills it as a cruiser. However, it is a very sporty cruiser and therefore makes a good solution for tall riders who find they're far too cramped on traditional sport bikes — a common problem. In other words, get some of that famous Ducati speed and power without the knee pain.
What you'll first notice if you give it a test ride is that it doesn't have much of a forward lean, even though the pegs are oriented farther back. With the upright seating position and long seat overall, you get more relaxed knee and hip angles than on any sport bike, though admittedly still more crouched than standard cruisers.
---
Suzuki Hayabusa
Specs:
Engine: 1340cc four-stroke inline four-cylinder
Max power: 188 hp
Max torque: 111 lb-ft @ 7,000 rpm
Seat height: 31.5 inches
Curb weight: 582 pounds
MSRP: $18,799
The unfortunate truth is that no sport bike is ideal for tall riders because of the forward lean and rear-oriented pegs and controls. For any given motorcycle, a smaller rider will inevitably be able to tuck better and more comfortably.
However, some are better than others, and the Suzuki Hayabusa is arguably the best of all because of its more relaxed seating position, resulting in more leg room.
Best of all, you don't have to sacrifice sport performance for added comfort. The Hayabusa is one of the best sport bikes available and even held the title of fastest production motorcycle in the late 90s, reaching a top speed of 186 mph.
Further reading: Most comfortable sports bikes
It's also worth noting that the Hayabusa hits max torque at low rpm, at least relative to other high-performance sport bikes. This makes it easier to handle if you're on the heavier side, and if you're a tall rider, that probably includes you.
---
Indian Scout Rogue
Specs:
Engine: 1133cc four-stroke V-twin
Max power: 100 hp
Max torque: 72 lb-ft @ 5,900 rpm
Seat height: 25.6 inches
Curb weight: 545 pounds
MSRP: $12,749
The Indian Scout is such a good cruiser for tall riders that I'm planning to make it my next bike for that very reason. It even has wider knee and hip angles than its much larger siblings, the Chief and Chieftain. The seat is very far back, with pegs and foot controls toward the front.
The Scout is also a nice option if you're tall but don't want a bulky Harley with engine displacement over 1500cc. Plus, its smaller engine and lighter weight translate to a lower price tag.
Check it out on Indian Motorcycles
---
Harley-Davidson Electra Glide Highway King
Specs:
Engine: Milwaukee Eight 114 1868cc V-twin
Max power: 95 hp
Max torque: 122 lb-ft @ 2,750 rpm
Seat height: 29.5 inches
Curb weight: 849 pounds
MSRP: $26,999
A large touring motorcycle, the Electra Glide is designed for comfort, which makes it good for tall riders. However, even compared to other Harley tourers like the Road King and Street Glide, the Electra Glide has more leg room, with more relaxed knees and hips.
Check it out on Harley-Davidson
---
KTM 1290 Super Adventure S
Specs:
Engine: 1301cc V-twin
Max power: 160 hp
Max torque: 102 lb-ft @ 6,500 rpm
Seat height: 33.5 inches
Curb weight: 485 pounds
MSRP: $20,299
The Super Adventure makes a good alternative to the BMW R 1250 GS. It has similar specs, and although it's just a tad more cramped in the hips, it's a bit more open at the knees, so consider your riding style and where you're most flexible. I should also point out that this KTM model is a bit shorter than its BMW counterpart.
---
Honda CB500X
Specs:
Engine: 471cc parallel twin
Max power: 47 hp
Max torque: 32 lb-ft @ 6,500 rpm
Seat height: 33 inches
Curb weight: 439 pounds
MSRP: $7,299
Head to the dealership as a tall guy, and they're immediately going to take you to the big boys over 1000cc. Although it's true that you'll find more motorcycles in your size with bigger engine displacements, there are a couple smaller options, some even under 500cc.
My top recommendation in this class is the Honda CB500X. As an adventure bike, it has a neutral, upright posture that allows you to stretch out your legs. Plus, it has an even more relaxed hip angle than similar BMW models, which are usually great for tall riders. This helps you feel less cramped.
---
Triumph Scrambler 1200 XE
Specs:
Engine: 1200cc parallel twin
Max power: 89 hp
Max torque: 81 lb-ft @ 4,500 rpm
Seat height: 33 inches
Curb weight: 507 pounds
MSRP: $16,195
The Triumph 1200 series is labeled as off-road, but these bikes have a standard look and midline power profile that make them good choices for paved streets as well.
The entire line, especially the XE, is great for tall riders thanks to a tall seat with neutrally placed foot pegs, allowing for a natural seating position. Even at 6'3″, I don't have to lean forward on this bike. The 1200 XE is also remarkably lightweight for the large, powerful engine.
---
Yamaha WR250R
Specs:
Engine: 250cc single cylinder
Max power: 31 hp
Max torque: 17.5 lb-ft @ 8,000 rpm
Seat height: 36.6 inches
Curb weight: 295 pounds
MSRP: $6,699 (2020)
Although Yamaha unfortunately discontinued it in 2021, I recommend looking for a used WR250R if you're a tall guy who wants a dual-sport motorcycle.
In general, dual-sport bikes have higher seats that are more comfortable for long legs, but this model, in particular, really lets you stretch out even while firmly planting your feet below your shoulders for better handling while off-roading.
---
Further reading: Best motorcycle for heavy guys
Image Credits
Tr-909, Public domain, via Wikimedia Commons