Clothing stores may have conveniently devoted sections for big and heavy guys, but motorcycle dealerships unfortunately don't.
Like with clothes, being big and heavy limits your options for motorcycles, at least if you want to ride comfortably and with stability and security.
However, that definitely doesn't mean you can't enjoy motorsports. You just have to find a motorcycle that suits your size and frame.
Honda Gold Wing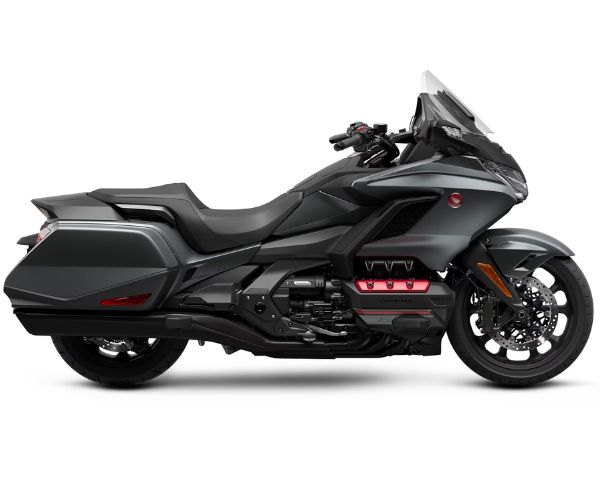 Specs:
Engine: 1833cc six-cylinder four-stroke
Max power: 125 hp
Max torque: 130 lb-ft @ 4,500 rpm
Seat height: 29.3 inches
Curb weight: 804 pounds
MSRP: $25,600
The Honda Gold Wing might be the bike for big and heavy guys. Most heavy riders I know have owned one and loved it, mostly due to its wide frame that allows for a broad, padded seat. Combine that with the low-slung build and you get an incredibly roomy and comfortable motorcycle that's stable, too, especially at low speeds, given its weight.
Additionally, if you're a heavy guy, you'll love the flat-six engine that gives smooth power without jerks and jumps that are harder for you to handle. In fact, you can even get the 2023 Gold Wing with a seven-speed automatic transmission, though a traditional six-speed manual is available too.
---
Harley-Davidson Road King Special
Specs:
Engine: Milwaukee Eight 114 1868cc V-twin
Max power: 100 hp
Max torque: 118 lb-ft @ 3,250 rpm
Seat height: 26.4 inches
Curb weight: 807 pounds
MSRP: $23,999
The Road King is one of the most popular Harleys for heavy riders. Its low-slung design and V-twin engine help keep your weight and center of gravity low so the bike remains stable on long rides. Plus, the curved and ergonomic seat combined with the forward footrests makes the seating position comfortable, even if you have a decent gut.
The suspension, including adjustable rear shocks, along with the easy-to-handle V-twin engine, provides for a smooth ride. It's not specifically for tall riders, but heavy guys will definitely enjoy the stable, comfortable design.
Check it out on Harley-Davidson
---
Indian Chieftain
Specs:
Engine: Thunderstroke 116 1901cc V-twin
Max power: 100 hp
Max torque: 126 lb-ft @ 2,900 rpm
Seat height: 25.6 inches
Curb weight: 823 pounds
MSRP: $27,999
I love Indian motorcycles, and I can't recommend any of its models for big and heavy guys more than the Chieftain. It's a massive tourer with over 1900cc of engine displacement and well over 1,300 pounds of weight capacity. It's big and heavy itself, so the weight of your body is going to have a much smaller effect on its stability and center of gravity.
Indian also tailored its suspension to handle the additional weight. It includes a telescopic front fork with nearly five inches of travel and a single shock with air adjust and 4.5 inches of travel.
Finally, the huge engine is still a V-twin, manageable and smooth whether you're a beginner or just looking for a comfortable ride. Add this to the soft, plush seat, and the Chieftain is fun for hours at a time, even if you're carrying a little extra weight.
Check it out on Indian Motorcycles
---
BMW R18
Specs:
Engine: 1802cc two-cylinder boxer
Max power: 91 hp
Max torque: 116 lb-ft @ 3,000 rpm
Seat height: 27.2 inches
Curb weight: 761 pounds
MSRP: $14,995
A lot of the hefty cruisers and tourers that are great for big and heavy guys also have a big and heavy price tag, so the R18 is an inexpensive alternative under $15,000, which is surprising considering its BMW brand and corresponding reliability.
While it doesn't quite have the robust suspension of other cruisers on this list, it does feature an especially ergonomic and relaxed seating position that's quite comfortable for those with larger midsections or thighs. It's also rated to carry almost 500 pounds, which is more than enough for most big and heavy riders, and their luggage.
Further reading: 11 of the most comfortable cruisers
The engine is insanely smooth as well. Arguably a step up from the fluidity of a V-twin, the flat boxer engine delivers power and torque in a consistent and manageable way that doesn't throw you around.
---
Kawasaki Vulcan 900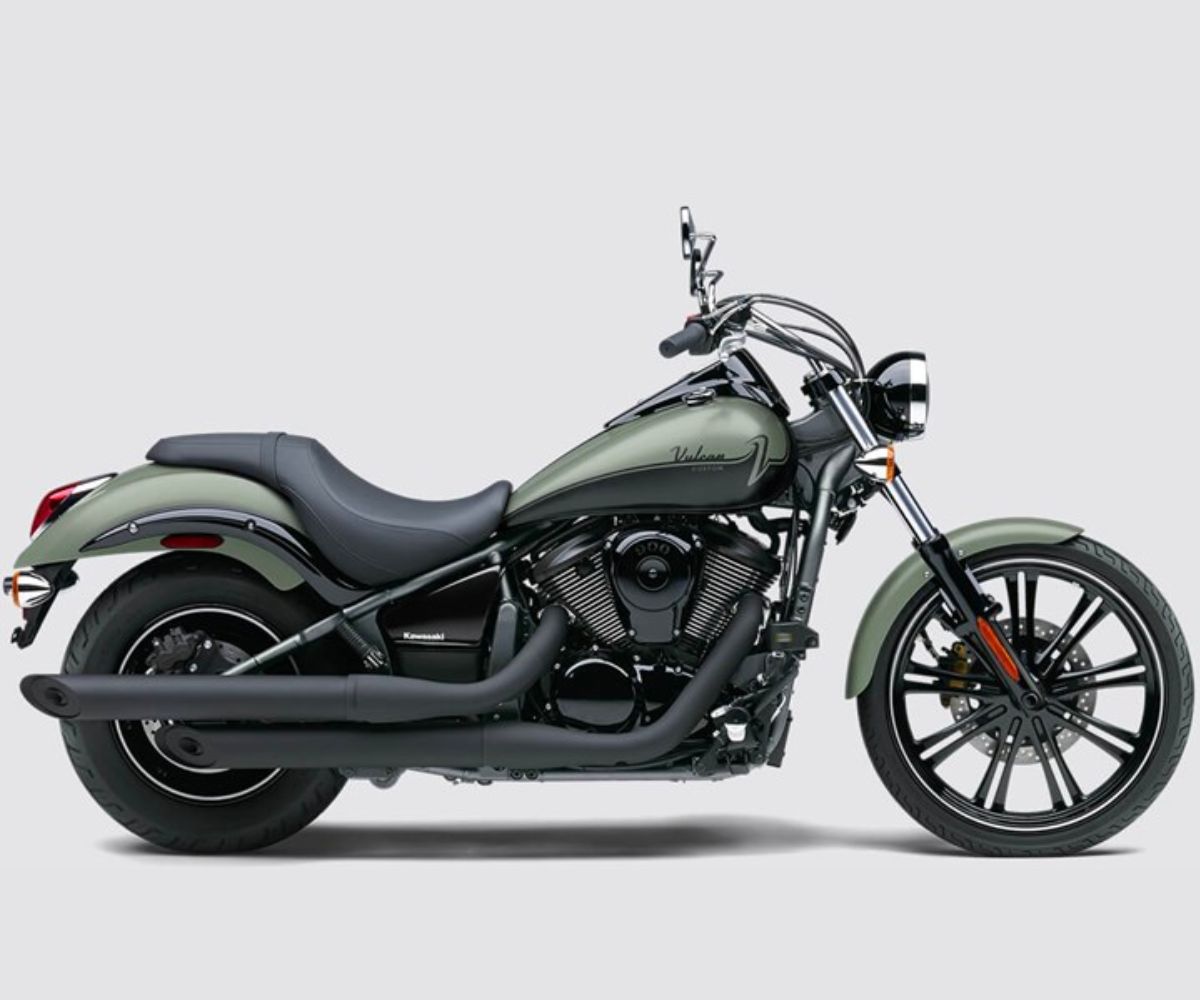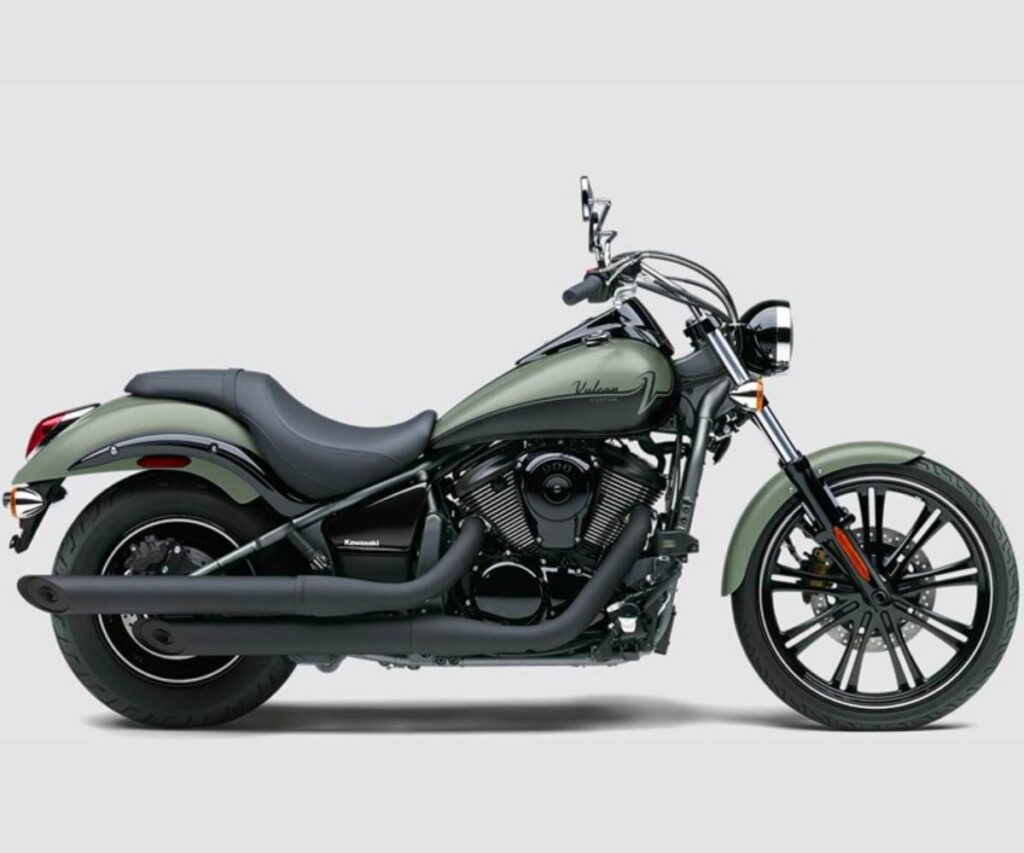 Specs:
Engine: 903cc V-twin
Max power: 50 hp
Max torque: 58 lb-ft @ 3,500 rpm
Seat height: 26.8 inches
Curb weight: 620 pounds
MSRP: $8,999
The fact is most of the best motorcycles for big and heavy guys are big and heavy themselves. But if you're a big guy who wants a middleweight engine? Although your options are fewer, they do exist, and my top recommendation is the Vulcan 900.
Among motorcycles in the middleweight class, the Vulcan 900 has one of the most laidback seating positions, with rider floorboards placed far forward. The center of gravity is also pretty low, compensating for your extra weight better than a lot of other middleweight bikes.
I also want to mention the suspension. The front fork has six inches of travel, quite a bit for a cruiser. That means less bouncing on uneven roads, which isn't exactly comfortable if you're bigger.
---
Ducati Diavel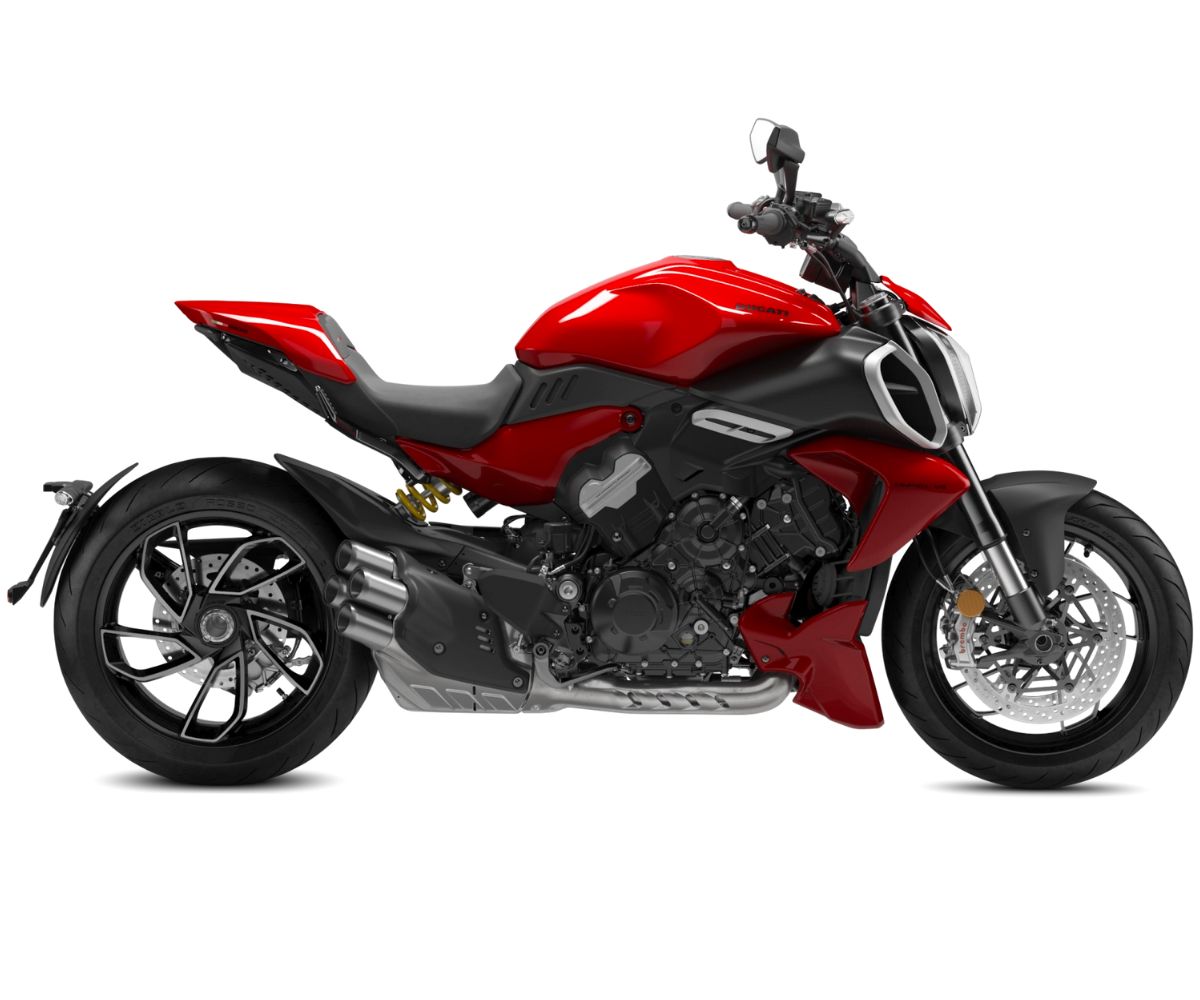 Specs:
Engine: 1158cc V4
Max power: 168 hp
Max torque: 93 lb-ft @ 7,500 rpm
Seat height: 31.1 inches
Curb weight: 527 pounds
MSRP: $26,995
The Ducati Diavel blends a bit of cruiser with the typical Ducati sport characteristics. If you're carrying a few extra pounds, it's not going to be quite as comfortable as the big cruisers on this list, but it is a good way to take advantage of the famous Ducati speed and power with a bit more stability for your larger frame.
Specifically, the Diavel is a bit longer and wider than most sport bikes, and the seating is more relaxed. If the standard sport forward-tuck is uncomfortable for you in the midsection, the Diavel is a likely solution.
---
BMW R1250 GS
Specs:
Engine: 1254cc twin boxer
Max power: 136 hp
Max torque: 105 lb-ft @ 7,550 rpm
Seat height: 35 inches
Curb weight: 591 pounds
MSRP: $20,745
The top reason the BMW R1250 GS is such a good motorcycle for big and heavy riders is that the seat height and handlebars are highly adjustable. If you have a bulky frame, you can experiment with the settings until you get your center of gravity and seating position just right.
In general, the seating position is upright and neutral, which also gives you a decent amount of versatility depending on how you carry your weight.
The R1250 GS is my recommendation for big and heavy guys looking for an adventure bike, but it's worth noting that the R1250 RT touring motorcycle is also a good choice and has many of the same features.
---
Suzuki Hayabusa
Specs:
Engine: 1340cc four-stroke inline four-cylinder
Max power: 188 hp
Max torque: 111 lb-ft @ 7,000 rpm
Seat height: 31.5 inches
Curb weight: 582 pounds
MSRP: $18,799
It's true that many sport bikes are uncomfortable for big and heavy riders, but that doesn't mean you have to sacrifice speed and power for comfort. In fact, the Suzuki Hayabusa, a legendary sport bike known for being the world's fastest production motorcycle at the end of the century, is great for bulky guys. FYI, that legendary top speed is 186 mph.
At the same time, the Hayabusa is surprisingly comfortable if you're on the heavier side, mostly thanks to a wide, cushioned seat and a large amount of legroom for a sport bike.
It's also a lot less peaky than other bikes with similar power profiles, hitting max torque at 7,000 rpm. In other words, it doesn't throw your extra bulk around as much, which isn't especially fun.
---
Harley-Davidson Fat Boy
Specs:
Engine: Milwaukee Eight 114 1868cc V-twin
Max power: 94 hp
Max torque: 119 lb-ft @ 3,000 rpm
Seat height: 25.9 inches
Curb weight: 699 pounds
MSRP: $20,199
I swear I didn't choose the Fat Boy just for the name! Mainly, I wanted a Harley cruiser option in addition to the large Road King touring bike. As you can see, the Fat Boy has the same engine as the Road King and similar specs, though it's lighter and more streamlined.
Although the Fat Boy is lighter weight overall, the center of gravity is similar, if not even lower, since there are fewer luggage and control accessories. It also has a very spread-out riding position thanks to a wide seat and handlebars that are ideal for big guys. The fact that the style screams "former college linebacker" is just a bonus.
Check it out on Harley-Davidson
---
Indian Scout Rogue
Specs:
Engine: 1133cc four-stroke V-twin
Max power: 100 hp
Max torque: 72 lb-ft @ 5,900 rpm
Seat height: 25.6 inches
Curb weight: 545 pounds
MSRP: $12,749
Like with Harley, Indian motorcycles, in general, are good for big and heavy guys, so I wanted to include a cruiser in addition to the Chieftain touring model. In this case, you also get a lower price tag and smaller engine displacement.
Most models in the Scout line are good choices, I suggest looking at the Rogue specifically. If you're a bulky guy, it has the most cushioned seat and relaxed seating position. The front suspension travel of 4.7 inches is nice as well.