I love motorcycles because of the freedom they give you, and the connection with the road. To fully enjoy that, I like an open-face helmet that lets me feel the wind on my face and see my surroundings.
Open-face helmets are usually pretty simple, but manufacturers keep coming out with better and better models, so I'm always on the lookout. These are the best five out there today, all standout helmets for one reason or another.
Reviews of the Best Open-Face Helmet
Best Open-Face Helmet Overall
Bell Custom 500 Helmet
I've been increasingly impressed with Bell helmets, and the Custom 500 might just be my favorite of all of Bell's models. It's basic, sleek, and affordable, yet still durable, well-crafted, and, most importantly, safe.
I first want to mention the five shell sizes. This makes it more comfortable since it provides more tailored helmet sizes in general, but it also gives the helmet a lower profile, avoiding that mushroom look that can happen with open-face and half helmets.
As for safety, you get a multi-density EPS liner. This absorbs shock in case of an accident and dissipates it throughout the liner so it doesn't reach your head. The strap is also secure for an open-face helmet, and keeps it positioned correctly even at high winds.
Finally, you get snaps for shields and visors. That increases the helmet's versatility for use with or without goggles.
Pros:
Low profile

Affordable price

Five shell sizes

Multi-density EPS liner

Secure padded chin strap

Five-snap pattern for shields and visors
---
Best Budget Open-Face Helmet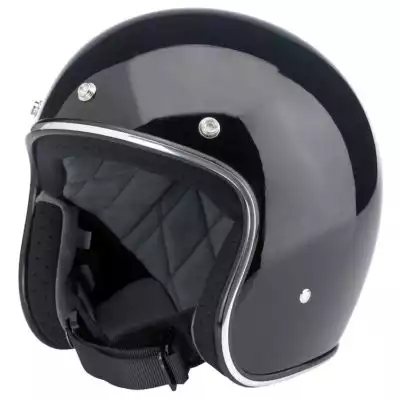 Biltwell Bonanza Helmet
The best thing about the Biltwell Bonanza is the price, but that doesn't mean you don't still get great features. My favorite is the range of color options, ranging from simple black to "gloss agave." You can match nearly any kind of style or bike.
The Bonanza also excels in weight. At just 2.43 pounds, it's more comfortable for long rides and regular commuting. It puts less stress on your neck and shoulder muscles so you don't have to do as much work holding your head up against highway buffeting.
The foam-padded interior adds to the comfort as well. The liner and cheeks pads are removable, so you can take them out and wash them to keep them soft — and remove that sweat odor.
As for safety, the Bonanza's ABS outer shell gets the job done. It's not the most advanced material available these days, but it's enough to meet DOT safety standards.
Pros:
Budget price

Many color options

Light weight

Comfortable interior lining

Removable and washable lining
Cons:
Round, high-profile look

High wind resistance
---
Coolest-Looking Open-Face Helmet
LS2 Spitfire Helmet
The LS2 Spitfire is one of the best-looking open-face helmets available. It's a classic bobber helmet with a rounded and streamlined design.
At the same time, it's also one of the safest open-face helmets. The shell itself earns it DOT certification, but what I really like is the quick-release chin strap. This allows EMTs to take the helmet off without moving your neck, something usually only found on full-face helmets.
My main problem with this helmet is the comfort aspect. It runs pretty small and narrow, sometimes resulting in pressure over long periods. However, it does have a ventilation system that helps with temperature regulation for both hot and cold riding.
Pros:
Classic bobber style

Quick-release chin strap

Ventilation system

Built-in sun shield
---
Best Carbon-Fiber Open-Face Helmet
Shark S-Drak 2 Carbon Helmet
The Shark S-Drak 2 is an advanced model for serious riders. For starters, it's made of carbon fiber. That drives up the price, but it also adds protection while lowering the weight to under three pounds.
What really makes this helmet unique is the removable face mask. It's not a true chin guard like that of a full-face helmet, but it does add wind-breaking for higher speeds and colder temperatures. Plus, it includes a retractable sun shield further increasing its versatility.
Finally, the S-Drak 2 is hit or miss when it comes to comfort. There are only two shell sizes, so you have to pay close attention to the sizing guide. Extreme sizes may be more uncomfortable. However, the suede interior is incredibly comfortable, though high end just like the carbon-fiber shell.
Pros:
Carbon-fiber shell

Removable face mask

Retractable sun shield

Unique style

Suede interior
Cons:
High-end price

Only two shell sizes

No color options
---
Best High-End Open-Face Helmet
Shoei J-Cruise II Helmet
The Shoei J-Cruise II is an amazing helmet, but just know it's a premium model that demands a commensurate price. It has a ton of features that most open-face helmets simply lack, such as adjustable ventilation and a removable face shield with a drop-down sun shield.
It's an especially safe helmet too. It has an Advanced Integrated Matrix, or AIM, shell that meets DOT standards. The chin strap is secure but padded, so you hardly even notice it's there.
Meanwhile, the interior is comfortable. The cheek pads are constructed of five layers, and the 3D Max-Dry interior wicks sweat to keep you cooler in hot weather. You can keep that sweat from building up, though, by taking it out and washing it.
This open-face helmet is even compatible with the proprietary Shoei Sena Bluetooth system. It's truly one of the most advanced open-face helmets you're going to find if you're willing to pay for it.
Pros:
Adjustable ventilation

Removable face shield

Drop-down sun shield

Four AIM shell sizes

Padded chin strap

Removable, washable moisture-wicking interior
---
Buyer's Guide
Open-Face vs Full-Face Helmets
The primary difference between an open-face helmet and a full-face helmet is that the form does not have a chin guard wrapping around the front. Instead, the face is, well, open.
Open-face helmets give you freedom and a wider field of vision. You feel the wind, hear the road, and don't feel as boxed in. They're also more comfortable and don't overheat as easily.
But that freedom and comfort come at a cost: less protection. You're more exposed in an accident, especially your chin.
Safety and Protection
Even though an open-face helmet is inherently less safe than a full-face helmet, you can still look for features that make it as safe as possible.
We've covered this in detail in our how to choose a helmet article.
Sizing and Fit
Finding a helmet that fits right is crucial for both comfort and safety. The ideal fit should be secure enough to stay in place as you move your head yet not so snug that it becomes painful.
Interior Lining and Comfort
The comfort of your helmet largely depends on its interior lining and cheek pads. Look for cheek pads that are soft and cushiony but can also conform to your face. Washable pads are especially nice because you can take them out, throw them in the wash, and get like-new fluffy cheek pads that also don't smell like BO.
Temperature control is another thing to consider, especially in warm weather. A lining made from moisture-wicking material is ideal because it draws sweat and humidity away from your skin, helping you stay cool.
Ventilation
Open-face helmets naturally have more airflow than full-face helmets since the wind can hit nearly your entire face. As a result, most manufacturers simply forgo ventilation on their open-face models.
However, I've always found that this results in a cool face but a hot head with hair dripping in sweat. Ventilation is still a great feature, and I prefer an open-face helmet that has a vent or two on the top to move a little bit of air over my head.
Noise
Noise is just part of the deal when it comes to open-face helmets. They'll always be louder than their full-face counterparts. Nevertheless, some are worse than others, primarily due to how well they handle buffeting at high speeds.
Face Shields and Sun Shields
While it might seem contradictory to the open-face design, you can actually find models that have face shields, sun shields, and even face masks. They end up being great features because, although you may want to feel the wind on your face most of the time, a face shield is going to be way more comfortable on the highway.
I recommend getting an open-face helmet that at least has snaps for installing a face shield later on. That said, make sure it's removable so you can still enjoy the open-face freedom when you want to.
Final Thoughts
Open-face helmets are a good way to enjoy the wind on your face and the freedom of the road while still getting a decent amount of protection. My favorite model is the Bell Custom 500 because it's affordable but looks and functions great. The other helmets on this list are excellent choices, too, if you're looking for specific things like style or high-end features.