It seems like Honda is never satisfied with the range and versatility of their line of miniMOTOs, now adding the Navi to their American lineup.
If you're looking for a small motorcycle, whether for commuting or just for fun, the Honda Navi and Honda Grom are lightweight, easy to handle, and easy to customize. However, they differ because the Grom is more of a mini sports bike while the Navi is closer to a scooter.
I compared them both and found that each has great specs, as is typical of the miniMOTO line. Still, different aspects of each make them better suited for particular people or situations.
Here's what I found and my recommendations for who should consider which model.
Honda Navi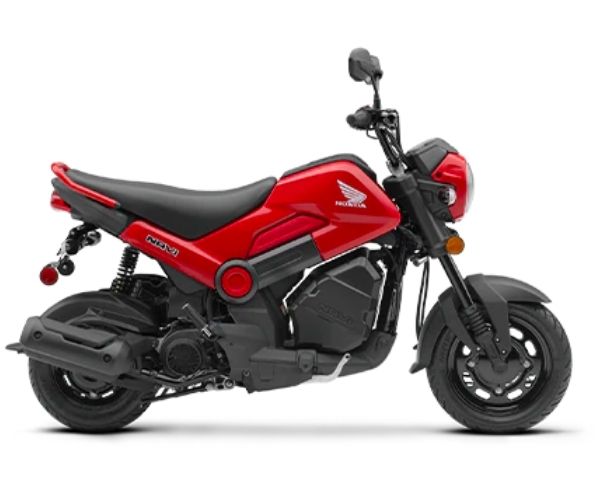 The Navi is proof that Honda's miniMOTO line has something for everyone. In contrast to the Grom and other Honda models, it has a more retro look. However, it also has the typical customizability and agility that we expect.
With a 109cc engine borrowed from the Activa 6G and automatic transmission, the Navi is an ideal way to get into Honda's miniMOTOs, sports bikes, or even motorcycles in general. This is also due to the Navi's excellent suspension, which improves balance along with the low center of gravity.
In general, the Navi has pretty impressive features for its $1,807 MSRP, less expensive than many bicycles. These include:
109cc air-cooled, single-cylinder engine
55 mph top speed
7.8 hp at 9,500 rpm
110 mpg fuel economy
Automatic CVT transmission
Inverted front suspension with 3.5 inches of travel
Single shock rear transmission with 2.76 inches of travel
---
Honda Grom
While the Navi might be a great way to get into Honda's line of miniMOTOs, the Grom is its flagship and claim to fame. In fact, with its sleek design and zippy 125cc engine, this minibike won Motorcycle USA's Motorcycle of the Year Award in 2014 after its release.
Since then, it's become one of Honda's best-selling motorcycles, in part because the speed and power it backs into its small size are a lot of fun, but also because it's a versatile addition to your garage.
It's an excellent motorcycle for commuters, gearheads, amateur racers, and just about any other motorcycle enthusiast due to its combination of great specs, such as:
125cc air-cooled, single-cylinder engine
56 mph top speed, potentially 62 mph in the right conditions. Read more about the Grom's top speed
10 hp at 7,000 rpm
134 mpg fuel economy
4-speed manual transmission
Inverted front suspension with 3.9 inches of travel
Rear mono-shock suspension with 4.1 inches of travel
Front and rear disc brakes
---
Honda Navi vs Honda Grom Head to Head
While both are quality motorcycles, the Grom and Navi have strengths in specific areas. Here's which wins out in each field.
Comfort
Winner: Navi
Both the Navi and Grom are comfortable for their size, but I have to give the Navi a slight edge. For one thing, its seat is 1/10-inch taller, slightly more comfortable if you have long legs. Additionally, the Navi allows for a more upright and relaxed posture.
Looks
Winner: Both
At the end of the day, looks come down to taste. Both the Grom and the Navi are sleek bikes that appeal to their audience. The Navi has a more classic look, while the Grom is sportier.
More importantly, both bikes are highly customizable. Whether you want a WWII-era cafe racer or cyberpunk tribute, you can get it out of the Navi or the Grom. Read more about Grom customs.
Price
Winner: Navi
This one is pretty straightforward, at least when it comes to MSRP. The Grom has a base price of $3,499 versus the Navi's $1,807, making it one of the most affordable motorcycles out there.
That said, it is worth considering the gas mileage. With at least 134 mpg fuel economy and some newer years getting up to 167 mpg, the Grom's efficiency is frankly mind-blowing.
When you compare this to the Navi's 110 mpg, it's possible that the Grom could make up for the difference in price in gas savings if you use it for regular commuting.
Storage
Winner: Navi
One of the Navi's biggest draws is the internal storage cubby. The rear-mounted engine makes its shape closer to that of a scooter, producing a large hole in the front of the frame. Honda took advantage of this space to add a lockable storage box.
Despite being a small bike overall with an engine smaller than many scooters, you can still carry water, food, essential documents, and potentially a change of clothes. This contributes to its utility as a starter commuter bike.
Speed and power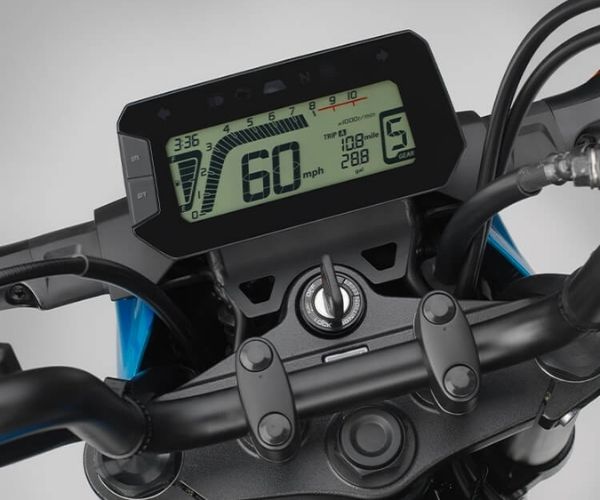 Winner: Grom
If you're looking to hit the track and feel the wind, the Grom is better. It has a bigger engine (125cc versus 109cc), giving you a higher top speed and more horsepower for better acceleration.
See our in-depth guides to:
Handling
Winner: Grom
Like with speed and power, the Grom is a step up when it comes to handling. While the Navi is a better starter bike to get used to a motorcycle's balance, the Grom lets you take it up a notch. Plus, it has disc brakes, much better for stopping than the Navi's drum brakes.
The Grom has slightly better suspension and a more forward-leaning posture. The result is better handling at higher speeds and the ability to perform more advanced maneuvers.
Beginner friendliness
Winner: Navi
Beginner friendliness is the Navi's defining feature. It has a small, manageable motor on top of an automatic transmission that lets you focus on balance without worrying about shifting gears. The rear-mounted engine makes balancing much easier, and the price is affordable for most budgets.
2022 Upgrades for Honda Navi and Honda Grom
With its long history and popularity, the Grom has seen regular and frequent upgrades. Every year, it seems Honda has gotten just a little more out of their best-selling miniMOTO with various upgrades and improvements. The Navi doesn't have the same history, but Honda has adjusted it as needed.
2022 Honda Navi
2022 is the Navi's debut on the American market, so in that sense, it hasn't exactly been upgraded from previous models. However, the Navi was previously available in Asian markets, especially India, and Honda has made some adjustments for US riders.
Most notably, the American Navis are available in a fun range of colors: red, grasshopper green, nut brown, and ranger green. It's also been adapted to meet current EPA standards and the CARB standards in California.
2022 Honda Grom
Honda has made many improvements on the 2022 Grom model to squeeze the best out of the minibike. For example, the engine is 1 cc larger and has a higher compression ratio of 10:1. This increases power and acceleration, yet the 2022 Grom has even better fuel efficiency than previous years.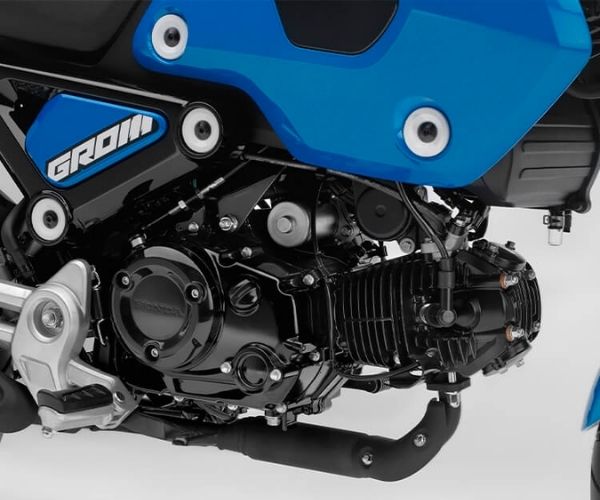 Honda also shaved a little weight off the 2022 Grom so that it now weighs 227 pounds instead of 229. Along with an upgraded rear sprocket that now has 38 teeth versus 34, this further improves acceleration and handling.
Lastly, an altogether new feature is the removable oil filter. This makes maintenance and customization much easier.
Final Thoughts
If you like minibikes and want something fun and fast but not too big and hard to handle, the Navi and Grom make good additions to your garage. Both are easy to use and get great gas mileage if you need an urban or suburban commuting bike.
Still, one or the other might be better for you depending on your needs. Here are my recommendations:
If you're new to motorcycles, go with the Navi and its smaller motor and automatic transmission.
If you want fun and speed, I'd choose the Grom, which has better horsepower and acceleration.
While both offer a blank slate for customization, the Grom has a longer history with more available parts and expertise for those wanting to get creative.
If you're on a budget, the Navi is astoundingly affordable.
The Navi has a more upright seat for urban commuting, and the rear-mounted motor makes it easier to balance like a scooter. Plus, it has a useful storage cubby.
If you're going out of town on winding roads, I'd recommend the Grom because it handles a bit better and has a forward-oriented posture.
Related
Related:
Images and Links
All images via Honda.
Links to models featured: