The Honda Grom and Kawasaki Z125 are two of the most popular minibikes on the market today with years of engineering giving them impressive specs and designs.
The Grom is a highly customizable motorcycle while the Z125 is a miniature version of Kawasaki's bigger famous sports bikes.
Despite having the same sized motor, these two motorcycles are actually quite different.
That's why I decided to compare them to see how they line up head to head, and which is the better choice depending on the person and their situation.
Honda Grom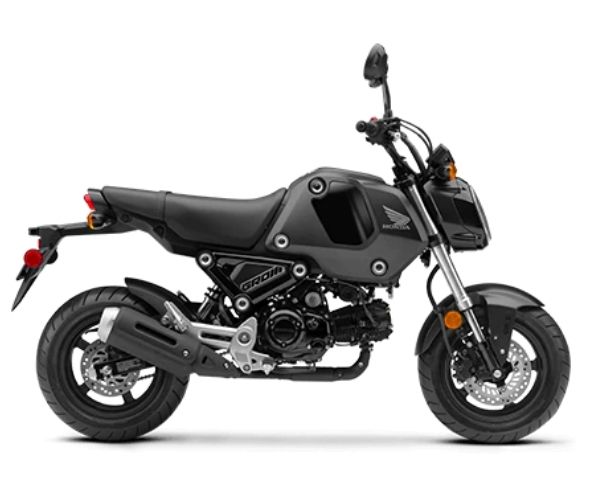 The Honda Grom has come to not only define Honda's miniMOTO line but minibikes in general. Since its debut in 2014, when the Grom won Motorcycle USA's Motorcycle of the Year Award, it's been one of Honda's best selling motorcycles in the US and around the world.
The Grom's popularity isn't just because of its zippy 125cc engine and superb handling. It's incredibly versatile, allowing for a wild range of custom designs.
It also has an impressive list of specs that have been constantly improving over Honda's near-decade of experience with the model. They include:
125cc air-cooled, single-cylinder engine
10 hp at 7,000 rpm
134 mpg fuel economy
4-speed manual transmission
Inverted front suspension with 3.9 inches of travel
Rear mono-shock suspension with 4.1 inches of travel
Front and rear disc brakes
Kawasaki Z125
Kawasaki designed the Z125 to be an entry-level sports bike in the image of their larger, more powerful Z models, just in a lighter, more manageable package.
Nevertheless, it's both powerful and fun, with several color options so you can be more excited about entering the biking world.
On top of its power, the Z125 is one of Kawasaki's "supernaked" models. Ultra light, it has both great acceleration and handling in addition to impressive specs, including:
125cc air-cooled, single-cylinder engine
72 mph top speed
8.3 hp at 7,800 rpm
80 mpg fuel economy
4-speed manual transmission
Inverted telescopic fork front suspension
Swingarm, single-shock rear suspension
Front and rear disc brakes
Honda Grom vs Kawasaki Z125 Head to Head
With this overview of specs, we can begin to see the aspects of riding where each model shines. Here are the areas where one wins out over the other.
Comfort
Winner: Grom
There's not a lot of difference between the comfort of the Grom and Z125, but if you're really concerned about it, or a particularly tall person interested in minibikes, the Grom might be a better bet. It has a higher seat by about half an inch and has superior suspension.
Looks and Customization
Winner: Grom
While both motorcycles look cool, resembling larger sports bikes, the Grom has broader angles with a visible motor and exhaust that accentuates its appearance.
More importantly, the Grom has been around for a while and there's a large culture for customization with plenty of available parts and designs.
That said, the Z125 is still a good choice for anyone who likes the supernaked look with minimal extra features and a fully exposed motor. If you're a fan of the larger Kawasaki Ninja bikes, the Z125 might be closer to your style.
Price
Winner: Grom
At first it might seem strange that I'm giving the win to the Grom since the Z125 is actually less expensive. However, they're nearly the same sticker price. The Z125's MSRP is $3,299 while the Grom is $3,399 for the least expensive version.
However, the Grom gets way better gas mileage, 134 mpg versus 80. These days you'll make up that $100 difference in just a few rides.
Handling
Winner: Z125
While the Grom does have slightly superior suspension, the Z125 has narrower tires and less trail, so it's more responsive to maneuvers.
More importantly, the Z125 is four pounds lighter, which is actually quite a bit when it comes to minibikes. It's stabler and easier to handle for new riders but agile and quick for experienced riders.
Speed and power
Winner: Z125
If you want speed, the Z125 is the way to go, reaching velocities over 10 mph more than the Grom.
Plus, since it's more lightweight, the Z125 has more kick and more responsive acceleration. It is true that the Grom has more horsepower than older Z125 models, but the new Z125s pack a punch.
Let's get into the upgrades.
2022 Upgrades for Honda Grom and Kawasaki Z125
Since the Grom is a popular minibike, Honda has spent the last eight years figuring out how to get every inch of power and agility out of it, gradually improving the specs year after year.
With the Z125, though, Kawasaki totally remade it for 2022, greatly improving it over older models.
2022 Honda Grom
Honda has made a lot of improvements on the 2022 Grom model to squeeze the best out of the minibike. For example, the engine is 1 cc larger and has a higher compression ratio of 10:1.
This increases power and acceleration, yet the 2022 Grom somehow has even better fuel efficiency than previous years.
Honda also shaved a little weight off the 2022 Grom so that it now weighs 227 pounds instead of 229. Along with an upgraded rear sprocket that now has 38 teeth versus 34, this further improves acceleration and handling.
Lastly, an altogether new feature is the removable oil filter. This makes maintenance and customization much easier.
2022 Kawasaki Z125
Compared to older models, the 2022 Z125 is almost a whole new bike. Although it has the same lightweight supernaked design, Kawasaki greatly increased the motor's power up to nearly 15 hp at 7,700 rpm giving it a top speed of around 78 mph.
Additionally, the 2022 Z125 has a new six-speed transmission for smoother acceleration. This can make the bike more intimidating for beginners, though.
It also gets better gas mileage at 110 mpg, which improves the overall economy and makes it a better value.
Conclusion
The Honda Grom and Kawasaki Z125 are both small and agile making them fun but easy to handle for beginners and the experienced alike. They're also both stylish and will turn heads if you use them as urban transportation alternatives.
Nevertheless, you might choose one or the other depending on specific needs or preferences. These are my recommendations:
For new riders, I suggest the Grom since it has a lower top speed and center of gravity.
If you're an experienced rider looking for fun, you might enjoy the Z125 more, specifically the 2022 version, since it's powerful and fast but lightweight and agile.
If you want to customize your bike, I'd choose the Grom due to its long and extensive culture of customization that includes a lot of available parts and designs.
For anyone concerned with gas prices, I recommend the Grom. It doesn't just beat out the Z125 for gas mileage but most other minibikes as well.
For the urban commuter, I also recommend the Grom, in part because of the better gas mileage but also because it has a slightly more comfortable seating position.
However, if you want to go off-road or out of town, the Z125 is probably a better bet because of its excellent handling.
Also See
Images and Links
All images via Honda and Kawasaki.
Links to models featured: